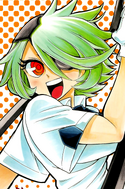 Kiruko Otonashi is one the main protagonists of Shinmai Fukei Kiruko-san and a former mercenary who became a police officer. Her weapon of choice is a set of Tonsa Blades, and she is very skilled with them. Kiruko is also skilled in hand-to-hand combat and has proven that she has enough speed to even catch up to a criminal on a scooter. Read more...

What do you think of "Shinmai Fukei Kiruko-san"?

Ad blocker interference detected!
Wikia is a free-to-use site that makes money from advertising. We have a modified experience for viewers using ad blockers

Wikia is not accessible if you've made further modifications. Remove the custom ad blocker rule(s) and the page will load as expected.